WHAT COMES WITH THE PRODUCT
HOW TO MEASURE SIZE FOR RAIN PANTS
Each brand has its own unique sizing, so we strongly suggest comparing your measurements with our sizing chart to arrive at the suitable size. We have given both the body measurements as well as the garment measurements for each size for your easy reference.
If you intend to wear the rainwear for regular non-riding use (over everyday clothes), please measure your body & compare the same with our sizing chart.
If you intend to wear the rainwear over your riding gear, we recommend measuring yourself with the riding gear on & compare the measurements with our sizing chart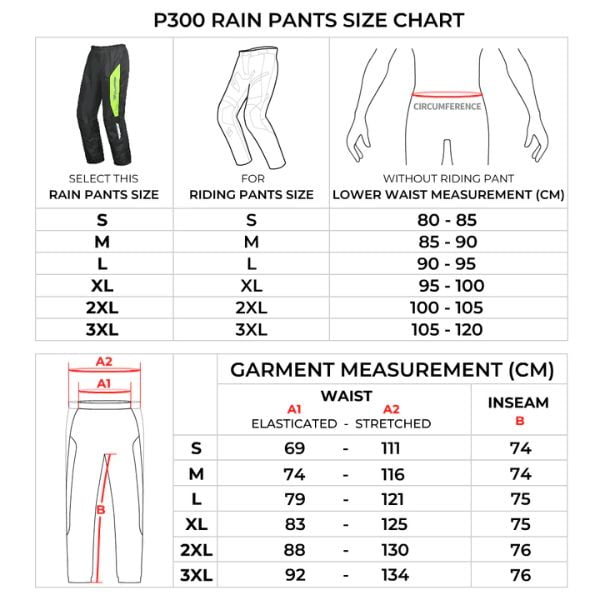 HOW TO CHECK FITMENT FOR RAIN PANTS
Please ensure there is an additional ease of at least 6-10 cm, i.e. the rainwear allows you adequate space & is not tight fitting.
You can check this by wearing the rainwear and stretching your arms out in the riding position to confirm there is no noticeable pulling at the shoulders and the torso area.
Please check the ease against your intended use case i.e. over regular clothes or over riding pants as tight fitting rainwear could lead to faster wear and tear. Please refer to the section on "How to measure size for rain pants?" for more information.
IMPORTANT THINGS TO REMEMBER
Try to avoid accumulation of water on the rain wear (within folds on the rainwear or at the crotch area on the motorcycle seat), as this might result in ingress of water over time. Smoothening the zipper flaps to avoid folds helps.
To avoid accumulation of water on the motorcycle seat (at the crotch area) during continuous rain, standing up intermittently helps.
You might experience moisture on the inner part of the rainwear caused by condensation due to the temperature differential between the outside atmosphere and your body heat. This is similar to what you can see on a glass of cold water, which develops water beads on the outside. Being a natural phenomenon the same is unavoidable. However this would not be to an extent where you would be completely wet.
Make sure to choose a rain pant with a good fit to ensure maximum coverage and protection. A tight fit can be restrictive and uncomfortable, while a loose fit can allow water to seep in.
Keep the rain pants clean and well-maintained. Cleaning, drying and storing them properly after each use can help prolong their lifespan and effectiveness.
SPECIFICATIONS
PU laminated breathable polyester fabric rated for 10000 mm water column pressure
YKK TM zippers
Weight ~400 gms
CARE & STORAGE
How to keep your rainwear clean?
For dirt and stains, wipe clean with a damp cloth and lukewarm water (DO NOT USE HOT WATER)
DO NOT allow your rainwear to come in contact with solvents (do not use fabric softener!), fuel, or cleaning agents.
DO NOT use any kind of CHEMICAL or ALCOHOL-BASED product.
Do not place your rainwear near, or come in contact with a direct heat source
Dry the rainwear on a hanger away from direct sunlight where there is good ventilation.
Zippers need to be cleaned and lubricated regularly – you can use vaseline or candle wax
How to store your rainwear?
Make sure your rainwear is completely dry before you store it.
Do not store wet or in a non-ventilated area as it allows mildew to grow on the fabric causing discoloration and damage.
Avoid folding or creasing the fabric when storing the rain wear, as this can cause permanent creases and weaken the coating. Instead, hang the rain wear on a hanger or fold it neatly and lay it flat.
Regularly check the rain wear for any signs of mildew or mold, and clean it immediately if necessary.
Warranty
We provide a 6 months warranty against defects in materials or craftsmanship. Please click on Warranty policy and choose the relevant category for further details.
Lifetime repair support
Fabrics fade, zippers get stuck, plastic fittings break – a few things that could happen with usage. ViaTerra believes in extending the life of the products so that we use lesser natural resources and you get more bang for your buck. Please write to them on salesteam@viaterra.in if you require any help with repairs or have any questions!