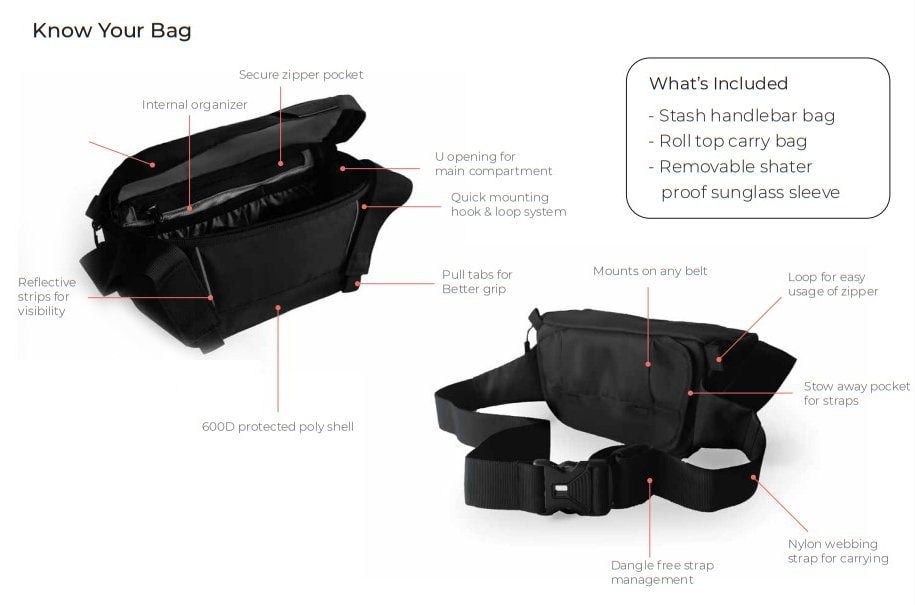 A universal motorcycle handlebar bag with quick release hook & loop system for easy mounting and un-mounting on motorcycle handlebar.

Ergonomic when using off the motorcycle. Modular design and hidden straps convert the bag into a convenient waist pouch or a cross body bag. It can also be mounted on your belt.

Mounting straps are designed as a multipurpose carrying handle when off the the motorcycle.

Keep everything organized with our versatile internal organizer. With thoughtful pockets, key clip and sunglasses compartment have everything accessible be it your commute or adventure.

Highly weather resistant materials used to keep your belonging safe.



Materials: 600D polyester with PU coating, Eva foam, YKK Zippers and hard PP sheet

–

Care Instructions
We use the best quality products and make your travel gear with utmost care to ensure that they hold up optimally. But when you are subjecting your gear to outdoor adventures or everyday hustle, it is bound to get dirty. Don't worry, we are here to help you take care of it. Here are some tips on doing so:
Hand Wash is recommended for serious stains. Simply wash your gear with warm water and mild detergent or a high-grade multi-purpose fabric cleaner.
DO NOT use any form of bleach, automotive cleaner, dry cleaning chemicals, or abrasive scrubbers; these items might damage the fabric of the product.
Do not submerge your travel gear in water and do not machine wash or dry clean your gear.
To remove dirt from your gear, empty it and shake it outside. But that doesn't clean out everything from the corners and edges. To deal with stubborn particles, give the inside of your gear a thorough wipe with a damp cloth, or a lint roller, focusing on the seams and the corners of the bag. The stickiness of the roller will pick up and dislodge the dirt left and remove crumbs from the hard-to-reach nooks and crannies. You can also use a brush to remove dust from the crevices of your gear.
You can also use wet wipes or a damp cloth to remove small dirt stains and smudges.
Zippers might need occasional cleaning to remove fine sand, dust, and other particles. Be careful not to scrub the zippers with abrasive scrubbers. Use mild soap, warm water, and a soft brush to clean zippers.
Allow your gear to air-dry in a well-ventilated area out of direct sunlight. Leave the zippers unzipped and hang it upside down. DO NOT use a machine dryer, direct sunlight, hairdryers, or any type of heater during the drying process.